PHYSICAL AND TECHNICAL CHALLENGES
FINISHER :
The 5 stages of Hoggar Bike will allow you to travel the Hoggar on both physical and technical routes in a unique environment.
The goal is to be the FINISHER of the 5 stages of the Hoggar Bike without time pressure, just the pleasure of the effort and the eyes.
You will go through all the stages, at your own rythm, admiring the magnificent landscapes of Hoggar and Tassili.
No timed classification.
A route of the 5 stages will be provided to you in GPX format.
Reserved for amateurs who practice frequently.
Know how to navigate using GPS.
Medical and technical assistance on the track, at checkpoints and at the bivouacs.
T'shirts for all participants.
Trophies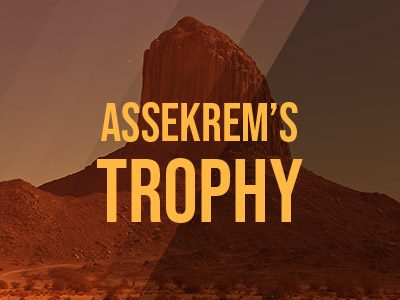 ASSEKREM'S TROPHY :
On the 4th day, you will face a very physically demanding stage on the road to Mount Assekrem, culminating at 2600 m altitude and 43 km in 1.2 km uphill by 18%.
There, a trophy will be awarded to the first to cross the finish arch and mark this mythical course.
GPS navigation.
Medical and technical assistance on the track
T'shirts for all participants.
The Assekrem's trophy